Video by Martin Mack, Germany
Copyright Dennis Kunkel Microscopy, Inc.
| | |
| --- | --- |
| | General Entomology |
| | Mammalogy and Lab |
| | Animal Behavior |
| | Collections Management |
| | Med/Vet Entomology |
| | Applied Entomology |
Information about mammalian ectoparasites and the world they live in. The realm of little creepy crawlers is actually a fascinating one, where tiny animals a millimeter in size can possess such complexity and form as to almost be considered a work of sculpted art. These fascinating animals can be found just about anywhere, and in fact, are found just about everywhere. From the hairs on your head, to the pores in your skin, mites and other Acari may be making their homes.

Ex. Alabidocarpus calcaratus from Myotis velifer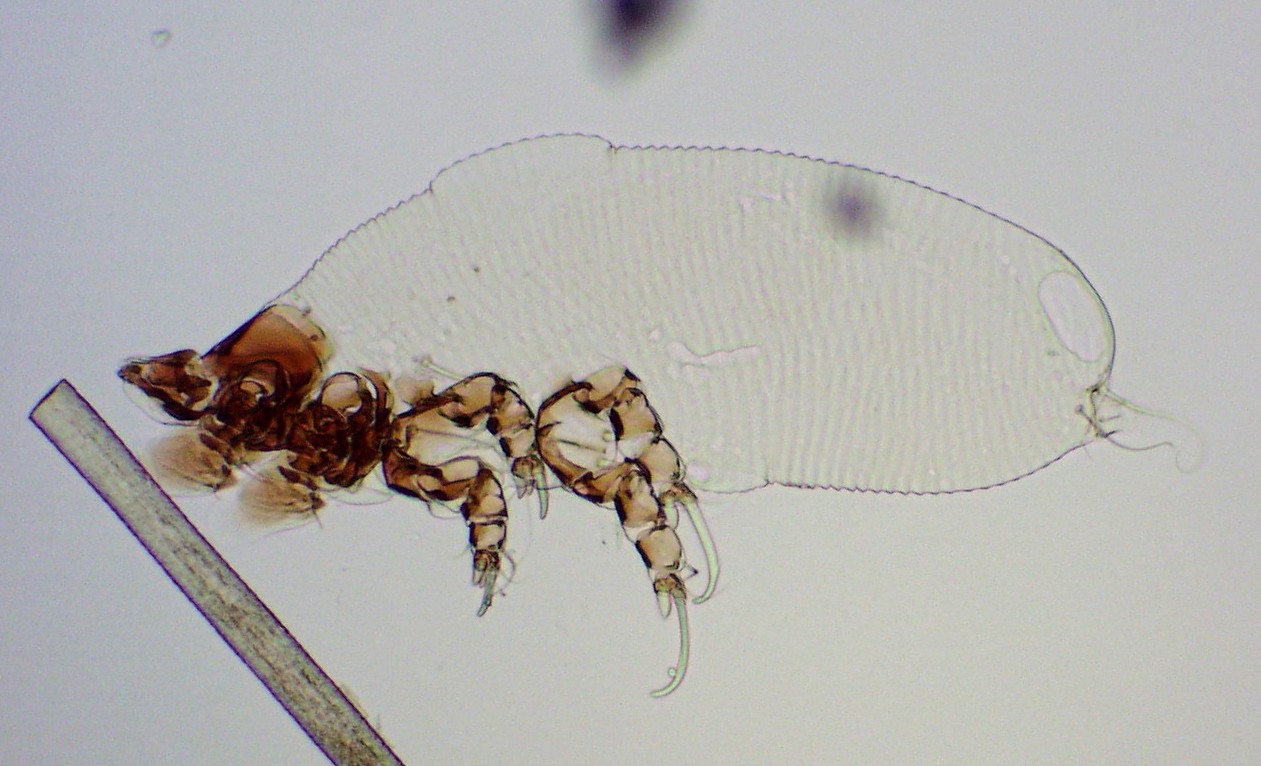 I have also branched into the world of pollination ecology, examining the pollinator communities that surround several types of plants found out in the Trans-Pecos. This project is designed to compile a list of pollinators associated with the Chihuahuan Desert Research Institute, as well as study the degree of specialization in several of our native pollinators.
My lab is also involved with current studies in applied entomology, through the use of a beetle to control saltcedar. This work, in collaboration with the USDA and the TACCO (Tamarisk Control Committee), aims to reduce the impact of saltcedar on the Big Bend region of the Rio Grande. We have managed to successful establish two species of salt cedar leaf beetle along the river from Candelaria to Big Bend National Park.
Another project my lab is working on is a deployable wasterwater treatment plant to be used for military and civilian use. This DAAB unit project is currently looking to see if we can adapt the organism consortium to break down pharmaceutical and sanitary chemical waste.
Finally, my work, and that of my students, encompasses the variation in arthropods found in this region. We are conducting both current collections and museum studies into Sulifugids (sun scorpions), as well as several other arthropods.
Graduate Students
Cynthia McAlister Melinda Dooley Rosie Meraz
Amanda Gutierrez David Sauerzopf Lori George
Raquel Acosta Kody Kubala Erin "Lance" Chambers
Karin Nilsen Lizbeth Marquez
Congrats to Alice Harris : our most recent MS Graduate!!